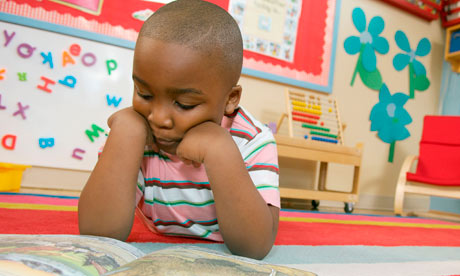 Primary schools are being encouraged to teach synthetic phonics
.
Photograph: Alamy
Campaigners have attacked the use of non-words such as "koob" or "zort" in the government's planned reading test for six-year-olds in England, claiming it is counterproductive.
The phonics-based progress check for year 1 pupils will try to identify those not at the expected reading level and in need of extra support.
The Department for Education's public consultation, requesting the views of teachers, parents and professionals, closed on 14 February. The department said it aimed to pilot the test this summer.
Phonics focuses on sounds rather than the recognition of whole words.
In synthetic phonics, children start by sequencing the individual sounds in words – for example, "s-t-r-ee-t", with an emphasis on blending them together.
In its consultation response, the UK Literacy Association (UKLA) said: "The inclusion of non-words is counterproductive since most six-year-olds expect to make sense of what they read.
"Thus non-words are likely to confuse children used to reading sense, to the point that they underperform."
It added that learning to read involved "the construction of meaning" and "identification of words", incorporating the recognition of irregular words and other word patterns as well as phonics.
David Reedy, the association's president, said: "It is essential that as many people as possible make their views known about this flawed and dangerous test."
The UKLA pointed out that English was not as regular as Italian or Finnish.
The schools minister, Nick Gibb, said: "We are clear that synthetic phonics will not be compulsory in schools, but we do believe more schools should teach it because it is shown to have a major and long-lasting effect on children's reading and spelling.
"We are supported in that view by high-quality academic evidence from across the world – from Scotland and Australia to the National Reading Panel in the US – which points to synthetic phonics being the most effective method for teaching literacy for all children, especially those aged five to seven.
"Too many children leave primary school unable to read and write properly – we are determined to raise standards and the new phonics-based reading check for six-year-olds will ensure that children who need extra help are given it before it is too late, and then can enjoy a lifetime's love of reading."